Posted: Monday, January 2, 2012 3:51 pm
By Ellen Sussman Special to the Green Valley News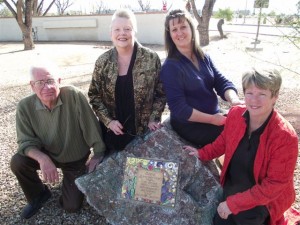 Ellen Sussman / Special to the Green Valley News
As the first anniversary of the Tucson shootings approaches, Green Valley and Sahuarita join 22 other Southern Arizona communities in planning outdoor activities Saturday to remember the fallen and injured — and to move beyond with a positive spirit.
BEYOND is the inaugural event of the Tucson Trails Tribute Fund, a Gabe Zimmerman-family initiative. A idea is for residents to participate in outdoor activities that promote physical and mental health.
Zimmerman, a constituent services representative for U.S. Rep. Gabrielle Giffords, was among six killed in the shootings Jan. 8, 2011, outside a Safeway in Tucson.
La Posada will host several outdoor activities on its campus.
Shoppes at La Posada Manager Mary Fisher has arranged music beginning at 11 a.m. in the courtyard with Mike Finkelstein and the Brass Band followed by the Cienega High School Jazz Ensemble from Vail led by Jim Matsushino and choral singers from Green Fields School in Tucson led by Rebecca Cordier.
Senior Accountant Jennifer Vandivort has make plans for the courtyard fountain to become a wishing well for the day. There will be a bowl of shiny, new, "unwished" pennies.
George Montgomery, curator of the Botany Department of the Arizona Sonora Desert Museum, is donating a velvet mesquite tree to be planted near the Gabe Zimmerman memorial in front of Posada Java.
Volunteer Manager Barbara Salazar has arranged arts, crafts and activity games for children. Artist Dikki Van Helsland will guide children painting two murals; one will be given to GVFD and one to Giffords' office.
Sahuarita events
In Sahuarita, BEYOND will be marked with several events at Anamax Park. Organizer Andrea Dalessandro said the event is a community effort that includes logistical help from Rancho Sahuarita, the Pima County Public Library's bookmobile and several organizations focused on health and wellness.
Vocalist and musician Amber Norgaard will be present for the opening ceremony and will entertain during the event.
BEYOND Sahuarita will include "organized recess" for people of all ages — Tai Chi, tumbling, yoga, dance, an "in the park" hike, children's face painting and other activities.
Participants and volunteers are asked to bring non-perishable food for the Amado Food Bank and Sahuarita food pantry.
"The people in Green Valley remember all the kindness and concern" shown by Zimmerman, Dalessandro said. "This is a positive for his legacy."
Anamax Park is at 17501 S. Camino de la Quintas in Sahuarita.
To help out, contact Dalessandro at 648-2092.
Green Valley BEYOND
La Posada events:
8:30–9 a.m.: Registration for a BEYOND walk and distribution of balloons will take place at the Gabe Zimmerman memorial outside Posada Java.
9 a.m.: A half-mile walk begins along Park Centre Ave. to the spiritual Meditation Garden in Central Park.
9:30–9:45 a.m.: Opening ceremonies at the garden.
10 a.m.: Greetings by La Posada CEO Lisa Israel, Green Valley BEYOND organizer Chet Davis and representatives Amanda Sapir and Sean Goslar from Rep. Giffords' office.
10:10 a.m.: Chaplain Vernon Harms will lead in prayer and into a moment of silence.
10:30 a.m.: Tai Chi, drumming and chair exercises begin at the Meditation Garden; an hour of Tai Chi led by Michael Jaeger.
Noon-1 p.m.: One hour of drumming led by Chris Dezso.
1-2 p.m.: Chair exercises led by Mia Cooper.
Get information
8:30-2:30 p.m.: Tom Purdon, Friends of Madera Canyon and Save the Santa Ritas will have an information table in the courtyard.
11-2 p.m.: The Green Valley-Sahuarita Food Bank will have a table.
10:30-2 p.m.: Green Valley Fire District Operations Chief Chuck Wunder will be on site with a cherry picker truck and will talk to children about safety.
For adults
Cycling, 9 a.m.: Bill Adamson will lead a biking group from the West Social Center to the Mt. Hopkins Visitors Center. The 40-mile, roundtrip ride is for experienced riders; part of the ride is on the Frontage Road without paved shoulders. Riders will return to La Posada about noon.
9:30 a.m.: Renee Fontaine-Ebel will lead a 24-mile bike ride from the West Social Center to La Posada for the 10 a.m. gathering and moment of silence, then continue to Madera Canyon returning to La Posada about noon.
All-day hiking: Jim Riley and members of GVR's hiking club will be hiking in small groups focusing on a positive spirit.
11 a.m.: Friends of Madera Canyon will hold a remembrance event for Gabe Zimmerman, who was an ardent supporter of the canyon, at Proctor Ramada in Madera Canyon. Parking fees have been waived.
La Posada is at Continental Road and Park Centre Avenue in Green Valley.